Musicians on Songs with Accordion, Bass and Percussion
Greg Speck/
Captain Squeeze
As a resident of New Orleans, LA since 2010, Greg Speck ("Captain Squeeze"/"Commodore Squeeze"/"Squeeze") has joined the musicians' community as an accordion/keyboard member. He has been a professional musician since his teen years in upstate New York where he learned about the world of Eastern European accordion music from his ancestors and was a band leader for jazz, R&B, and a zydeco bands for most of his music career. He has a Masters Degree in Music from Goddard College. He was inducted into the Blues Hall of Fame in 2014, Upstate New York chapter, given the Master of Blues and Zydeco Artist Award for his contributions to the music community in that region. For twenty years he was the engineer and music producer at Stonewall Studio, Rensselaerville, NY, where he worked with many high school students producing their first CDs along with seasoned professionals who came to the country studio site. He is a member of the steering committee for The New Orleans Accordion Festival and performs and tours with Captain Squeeze and the Zydeco Moshers, The Big Easy Play Boys, Marshland and many other bands as a freelance musician in New Orleans, LA and beyond.

James Clark started playing drums at age 13 in his home state of North Carolina. He graduated from Winthrop University with a BA in percussion and then moved to New Orleans in 1994 with a U-Haul full of drums. He has played Bach and Black Sabbath and every style in between including blues, Cajun, classical, country, flamenco, funk, Latin, Middle Eastern, reggae, and zydeco. The last five years he has held the drum chair with Ed Wills, blues guitarist. Some of his influences are Mickey Hart, Max Roach, Erik Satie and Philip Glass who have helped shape his original music. Shadows, Cloudwalker, March of the Bi-Polar Bears and Elements are his self-produced CDs available currently. For more information about his music, visit www.facebook.com/jamesclarkmusic or purchase it at www.jamesclark1.bandcamp.com.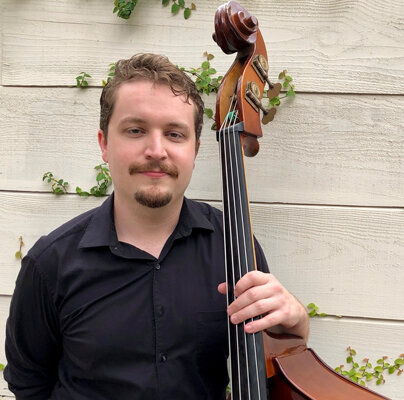 While a student at Hoover High School in Birmingham, Alabama, Sam Albright received the prestigious Ellis Marsalis Basin Street Scholarship which helped him pursue his musical studies at the University of New Orleans. His musical influences include Charles Mingus, Roy Hargrove, Joni Mitchell, Fleetwood Mac, Radiohead, Q-tip, Miguel Zenon, and MMW. He appreciates great, honest, organic musical expression. He has had the pleasure of recording and performing with some wonderful projects in New Orleans on upright and electric basses. He has opened for George Benson, had Allen Toussaint come randomly sit in on a gig and performed at Jazz Fest with Marshland and other artists. He is a musician because, "I want to be a force for good in this world, and music is one of the only things connecting us." He strives just to be an honest and good person in the crazy world.
Songs with Accordion, Bass and Percussion